Main content starts here, tab to start navigating
General Info
All activities are ONE HOUR
NOTE: Our indoor activities are ADA compliant. Our Bocce court outside is also ADA Compliant.
If you have special needs please contact the restaurant directly before booking so we can make sure you have a great experience.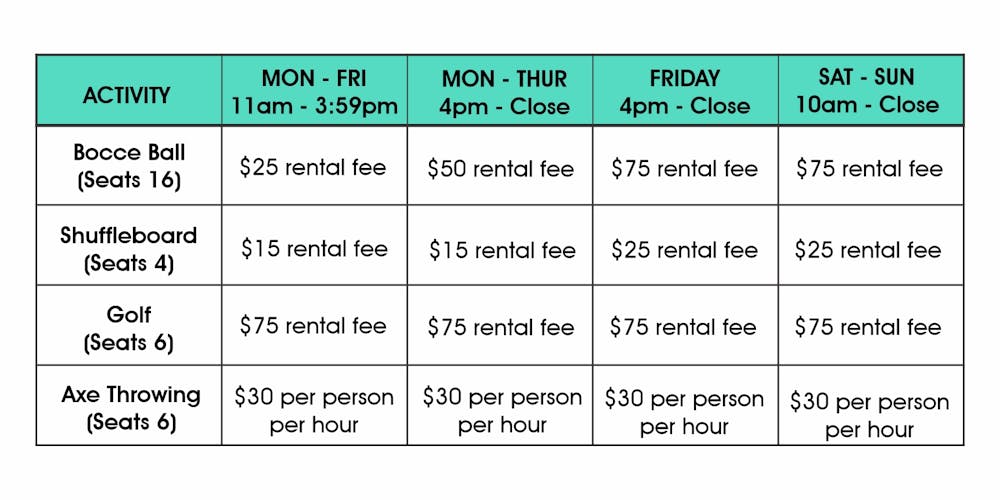 ALL PARTICIPANTS THROWING AXES MUST SIGN A WAIVER
Save Time! Sign your Axe Waiver HERE
PLEASE NOTE: We have a minimum person count for each activity. If you have less than that minimum, we will allow you to play on a walk-in basis if activities are available.
CATERING & EVENTS
To inquire please fill out this EVENT REQUEST FORM
ARCADE
We currently have over 30 games with new arcade games COMING SOON!
WEDNESDAY NIGHT TRIVIA
Arrive at 6:30PM to get a good seat, a beverage, and an appetizer
Trivia starts at 7 at high-top tables in our bar area
Trivia games are FREE to play
Reservations are not required
PRIZES $10, $25 and $50 DaBoccery Gift Cards awarded each week for the top three teams
TRIVIA PRO TIP Be sure to follow us on Instagram to get the "FREE trivia question of the night," posted on our story before each trivia game!
The high-top tables in our bar area are available on a first-come, first-served basis and may not be reserved. Guests are welcome to make ACTIVITY & DINING RESERVATIONS prior to trivia games
FREE ACTIVITIES
Cornhole
Giant Jenga
Giant Connect 4
A Bunch of Board Games
FAQ's
AXE THROWING FAQ'S
WHAT IS THE MINIMUM AGE FOR AXE THROWING?
You must be 16 and older to throw axes.
WHAT SHOULD I WEAR FOR AXE THROWING?
You should wear something comfortable. ALL GUESTS WANTING TO THROW AXES MUST WEAR CLOSED TOED SHOES!
CAN WE HAVE COCKTAILS WHILE WHILE THROW AXES?
Yes, however we don't allow double cocktails or shots to be consumed while throwing axes. If a guest is showing signs of intoxication, for their own safety, they will not be allowed to throw axes.
SHOULD I THROW AXES BEFORE OR AFTER DINING?
That entirely depends on your preference. Do you need to fuel up to hit that bullseye? Make your dinner reservation before. Don't want all that pizza slowing you down? Make your reservation after.
IS THERE AN AXE COACH WITH ME AT ALL TIMES
Yes. The axe coaches primary objective is to keep everyone safe. They will also coach and assist as much, or as little, as needed.
HOW MANY PEOPLE CAN FIT INTO ONE LANE?
We have a minimum of 4 people and a maximum of 6 people per lane. We have 2 lanes inside and 4 lanes outside so we can accommodate parties of up to 24 at one time.
CAN I BRING MY OWN AXES?
We don't allow guests to bring in their own axes or any other personal items they'd like to throw.
ACTIVITIES FAQ'S
CAN I MAKE A RESERVATION FOR 2 OR 3 PEOPLE?
Yes you can. You are paying a base price for the court or the lane. See our pricing list above for the charge for each additional person.
DO YOU ACCEPT WALK INS?
Absolutely! However, we cannot guarantee availability so we always recommend making a reservation whenever possible.
CAN WE EAT WHILE WE PARTICIPATE IN ACTIVITIES?
Yes, you will be given a table adjacent your activities lanes for food and cocktails. You will have a dedicated server while you're at this table. You're free to order whatever you like while you have the table, but once your activity time is up, you will need to vacate that table to make room for the next party. We recommend that you make a separate dining reservation that starts right when your activity ends, so you have a place to either dine, finish any food you might've purchased or just to hang out longer.
HOW LONG DOES IT TAKE?
We only take reservations for 1 hour time frames, which is actually 1 hour and 10 minutes. We reserve the extra 10 minutes for guests to sign waivers if necessary or receive instruction or simply as a buffer if we need it. Our intention is that guests will have a full hour of their activity. We do offer a 30 minute time frame for walk in guests only. No reservations are offered for 30 minutes.
SINCE THE MAXIMUM NUMBER OF PEOPLE IS 20, WHAT DO I DO IF I HAVE A PARTY LARGER THAN THIS?
You have 2 options for this - We highly recommend booking your large parties through our catering department. They can help make your experience a little more streamlined and efficient. This is important because you have a tight time limit on your lanes. If you decide to book on your own, you can also make multiple reservations for the same time frame in groups of up to 6 through our booking line. But really your best bet with a large party this size is to contact our Catering Department. To request a callback from our Catering Department, please fill out this EVENT REQUEST FORM
DO I HAVE TO MAKE A SEPARATE RESERVATION FOR DINING?
Yes! If you're choosing to dine before axe throwing, we recommend that you allow yourself an hour and fifteen minutes to an hour and a half for dining. If you're making a dining reservation after axe throwing, shoot for a start time that coincides immediately when your axe throwing ends.
DOES MY DINING RESERVATION AUTOMATICALLY INCLUDE MY ACTIVITY?
Unfortunately not. Each location only has a few axe lanes and hundreds of seats. You can make your separate Dining Reservations HERE
HOW DO I GO ABOUT BOOKING A LARGE PARTY OR EVENT.
Talk with our catering department. You can fill out this EVENT REQUEST FORM and our Catering Department will get back to you shortly.
DO YOU HAVE LEAGUES?
Not at this time.